Raining Fire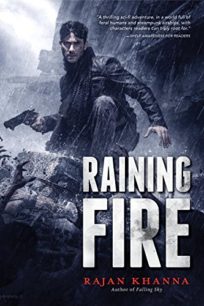 Release Date: July 18, 2017
Ben Gold, former airship pilot has lost everything: his airship, his friends, and Miranda, the woman he loves. All that he has left is a thirst for revenge, a reckless plan to sate it, and some journal entries from Miranda to help ground him in the chaos. As he spirals out of control, he must survive old friends, new enemies, and of course Ferals, the mindless, violent victims of the global pandemic that shattered the world.
Meanwhile, the Cabal, a group of scientists on the floating city of Valhalla, are using the disease as a weapon while the militant Valhallans continue their raiding and destruction across the continent. When raiders from Valhalla massacre a town of innocents, Ben finds a new purpose in doing anything he can to undermine their power.
Ben must reunite with old friends and find new ones if he is to succeed. Can he overcome the forces arrayed against him in time to save himself—and maybe the world?
Order: Barnes & Noble | Powell's | Amazon | IndieBound
Praise for Raining Fire:
"Khanna wraps up his postapocalyptic adventure series with a capable page-turner…the airships, slavers, cannibalistic Ferals, and visceral action scenes make this a worthy culmination to the series." ~ Publisher's Weekly
Rising Tide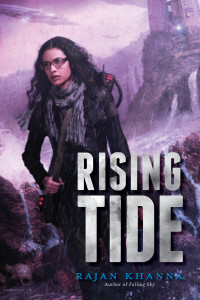 Release Date: October 6, 2015
Ben Gold sacrificed his ship in an effort to prevent pirates from attacking the hidden city of Tamoanchan. Now Malik, an old friend turned enemy, has captured Ben and Miranda—the scientist Ben loves. With Miranda held hostage, Ben has to do Malik's dirty work.
Miranda has plans of her own, though. She has developed a test for the virus that turned most of the population into little more than beasts called Ferals two generations ago. She needs Ben's help to rescue a group of her colleagues to perfect the test—but first they must rescue themselves.
But when a terrible new disease starts spreading, it seems there's something more sinister afoot. When people on the island city of Tamoanchan start dying, an old enemy attacks. Can Ben fight off the invaders? And will it be in time to save themselves from the disease?
Order: Barnes & Noble | Powell's | Amazon | IndieBound
Praise for Rising Tide:
"Khanna crafts a terrifyingly dismal picture of the future, raising the stakes by gradually stripping Ben of friends and support while throwing him into increasingly dire situations. His worldbuilding remains solid and unsettling, and he never loses sight of the human element. The cliffhanger ending is sure to leave readers on the edges of their seats, panting for resolution." ~ Publisher's Weekly
Falling Sky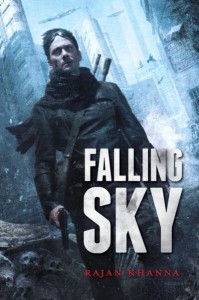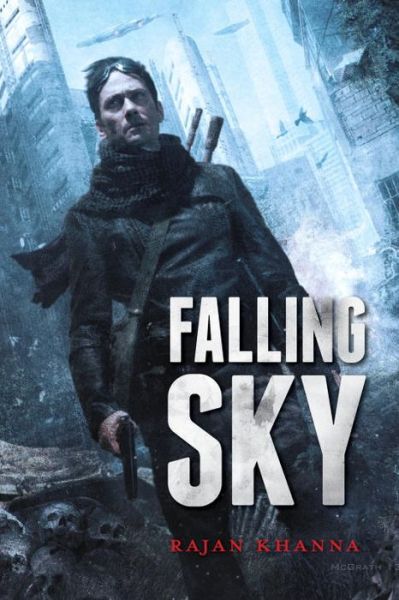 Release Date: October 7, 2014
Ben Gold lives in dangerous times. Two generations ago, a virulent disease turned the population of most of North America into little more than beasts called Ferals. Some of those who survived took to the air, scratching out a living on airships and dirigibles soaring over the dangerous ground.
Ben has his own airship, a family heirloom, and has signed up to help a group of scientists looking for a cure. But that's not as easy as it sounds, especially with a power-hungry air city looking to raid any nearby settlements. To make matters worse, his airship, the only home he's ever known, is stolen. Ben must try to survive on the ground while trying to get his ship back.
This brings him to Gastown, a city in the air recently conquered by belligerent and expansionist pirates. When events turn deadly, Ben must decide what really matters-whether to risk it all on a desperate chance for a better future or to truly remain on his own.
Order: Barnes & Noble| Powell's | Amazon | IndieBound
Praise for Falling Sky:
"Falling Sky grabbed me right away and held me to the last sentence.  Khanna's book is short, but sharp as a hidden knife.  It's a fast ride, scary and twisty-turny, and it also has plenty of airships, zombies, and sarcasm, three of the best things in the world.  It's also very well written — terse but punchy, like Hemingway Meets the Walking Dead.  Ever since I read it, I've been much less comfortable about living on the ground (too exposed!) but it was worth it to spend some time with Ben Gold and the Cherub." ~Tad Williams, author of Sleeping Late on Judgment Day 

"Fast paced and fiercly imaginative, Khanna's debut is a different look at a dystopian future."  ~ Mur Lafferty, author of The Shambling Guide to New York City

"Falling Sky is a gritty and gripping post-apocalyptic thriller, a noirish blend of Firefly and The Walking Dead — with a dash of Hayao Miyazaki. Welcome aboard the airship Cherub… Your next stop: adventure!"  ~ E. C. Myers, author of Fair Coin.

"This solid and memorable debut is set in a world where a disease has turned most people into quasi-zombies called Ferals…Khanna's vision of a ruined world, populated by human monsters on the surface and desperate survivors in the air, is bleak but compelling…a fine start to Khanna's career."   ~ Publisher's Weekly.

"Postapocalyptic sf is a heavily traveled genre, as is steampunk, but debut novelist Khanna combines both quite well here, as the airships help to keep humanity safe from the infected ferals on the ground in a world where the action never stops, leaving room for more adventures." ~ Library Journal

"I really enjoyed the book though, even though Walking Dead and Z-Nation and Last of us has kind of saturated me on the genre, the voice is very real and gritty and I felt immersed in the world. Abercombie-edgy and quick read at that." ~ Felicia Day (Goodreads), actress and producer

"Falling Sky is a solid start to an exciting series (I hope!). The ending was perfect, in my opinion, and leaves us anxious to see what trouble Ben will get into next." ~ Books, Bones & Buffy

"Falling Sky by Rajan Khanna captures the panicked urgency of a viral plague extremely well…The adventure aspect of Falling Sky is as compelling as the world. Khanna's writing is clear, Ben's voice engaging. I quickly became invested in his story and his fate…Given the great start, this is a story and a series I'm keen to follow." ~ Kelly Jensen

"From his short fiction I knew Khanna was a talented author, but with Falling Sky Khanna has successfully made the leap into longer fiction. Falling Sky is a solid debut for Khanna, with an interesting world and characters I hope he'll return to in the future." ~ A Fantastical Librarian