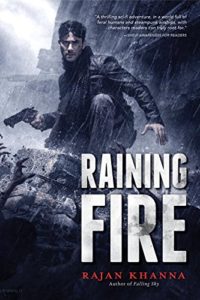 Nine years ago, at around this time, I was finishing up the Clarion West workshop. A little more than nine years ago, it was my 2nd week, and the first time we were expected to produce short stories. That's a short story in a week, or in my case, since I chose to have my stories critiqued on Mondays, a story in just a few days.
So you may understand why I relied on a two sentence prompt I had hanging around my hard drive. It was about a young man, in a balloon, who was afraid to go down to the ground, but who knew he had to. I was thinking on it even during the first week, and so when Paul Park, our 1st week teacher, asked me if I had any ideas for my story, I told him.
I don't remember everything he said, but I remember him asking questions and saying, in a cautionary tone, "It's not a fantasy, right? Everyone doesn't have their own balloon?"
And I heard myself saying, "No. Of course not." That clearly would be silly. And so at that point I committed to something more science fiction in origin and things started to take shape.
My first story was called "Falling Sky" and it told the story of how cynical airship captain and forager, Ben Gold, met up with scientist and seeker of the cure, Miranda Mehra, and had his life changed forever. It was about how a person out for himself suddenly realized that his life could have more meaning than just survival.
I remember people liking parts of it, particularly the floating city in the sky, suspended from balloons and airships. People said that it hinted at a larger world. Mary Rosenblum, our 2nd week teacher, told me that it could be expanded into a novel. It was a surprise — the idea of doing that. But I filed it away. And I thought I should try that, make it into a novel since I liked the world I had created in that moment.
But it didn't all come at first. I thought about possible stories, and I brushed up against the idea again and again but nothing ever seemed satisfying. The short story had been a standard 3rd person, past tense, and that was what I kept returning to. But somewhere in there, I started reading novels and stories — thrillers and urban fantasies — that used first person, present tense. And one day I experimented with that and knew I had found the voice I needed to write this novel.
I didn't rehash the events of the short story, but instead picked up a little bit after that, extrapolated into the future. I found Ben still struggling with his decision to join the scientists, and then things rolled on from there.
Falling Sky was published, but I knew there was more and so that came in Rising Tide and by the time I finished that, I knew there needed to be more to finish up the story. So, I was rather thrilled when Pyr, my publisher, decided to buy Raining Fire.
And here we are, nine years after the original idea, with three novels coming out of that first story, born out of desperation and the guiding words of a talented and experienced author. I am grateful to everyone who has helped along the way, but it all started with Paul Park, and Mary Rosenblum, and the Clarion West Class of 2008. Thank you all for believing in me. It's been a wonderful ride.